With anything and everything …there are always pros, cons, likes and dislikes. If you have a blog on blogger … You know how difficult, time consuming and sometimes downright impossible it is to load photos using bloggers upload tools. You may also have had the unfortunate pleasure of being half way through a post when things just totally disappear off into Blogger NeverNeverland… never to been found or seen again. How about having to load all those photos in backwards order.. isn't that just a big ole pain in the batootie. Tired of having to play computer genius to change those photo codes to get your photos larger?  I know.. Trust me I know.. I feel your blogger pain.
Well all that is over thanks to this Wonderful Bloggers Best Friend thing called: Windows Live Writer.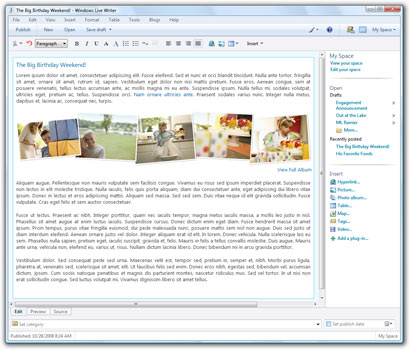 I first learned of this wonderful feature from Rhoda @ Southern Hospitality after she did a post singing it's praises.  Her tutorial on what and how to download Windows Live Writer was spot on.. and was so easy to follow.
I thought I'd share with you all some of the features and tricks I love about WLW.. and afterwards if you like what you see.. then you too can be in Windows Live Writer Blogger Heaven.
Downloading WLW: Simple and Very Easy to follow instructions.. You'll only want to download the Windows Live Writer portion.. the other stuff you don't need.
Once you've downloaded the program and set up everything the program scans your blog for your features and saves them … So each time you go to do a new post your screen will appear as your blog page.. Just like this below.
That's a shot of my computer screen as I'm doing this post… Love all that space? Better than that lil 5" x 5" blogger new post screen huh.
This cool little bullet feature…
The strike out feature … ain't that just nifty
The Edit tools at the top.. If you make a mistake.. just click undo til you get back to where you were before that mistake.
Spell Check
Photo Edit features.. You can rotate, crop, resize and everything else .. right here.
Multiple Photo Load..  Load 1 to 10 photos instantly.
Load Videos
Easy to use hyperlink
Prepare drafts for later posting.
Start a post … get interrupted .. and you can pick right back up later. No scrolling trying to remove those extra spaces between sentences or paragraphs.. Ever had to do that? PAIN PAIN PAIN. Well No More.
Some Photo Editing Features.
SMALL
MEDIUM
LARGE
Big Difference Right..
You can also .. make your colors stand out.. sharpen images.. add watermarks and tilt your photos.
Add Borders… Make Reflections… & Round Corners.
Check out this nifty lil feature..
You can insert a Video… This one I just saw for the first time a few minutes ago... Thanks to Debbie at Dining With Debbie for sharing it. I LOVE IT!
The Features are endless.. You have a ton of choices on color,  fonts & sizes.
Jadehollow    Jadehollow   Jadehollow    Jadehollow   Jadehollow
Jadehollow   Jadehollow   Jadehollow Jadehollow
Jadehollow the possibilities are endless.
When you finish preparing your post.. just click preview.. it'll show you exactly what your post looks like on your blog with your header, background and all of your sidebar buttons.. everything. If you like it… and approve .. then you go right up to the top.. click on publish and Viola!
So what do you think? Look like something you'd like to try? Here's that link again Windows Live Writer. If you decide to try.. come back and let me know what you think.
Here's a little peek at a project I just started on..
Check back in a few days.. and see it's transformation.
Have a Blessed Week Everyone…
Big Ole Hugs,
Debbie